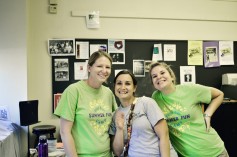 Are you interested in making a difference for the children of Flint Hills Summer Fun Camp? We look for certified teachers dedicated to making a difference for children over the summer months. 
If you are interested in applying, please complete the LINKED form below.
ASHLEY ECKELBERRY, Camp Director
Email: ashleye@usd383.org
All applications will be reviewed by the autism office.
We are in need of teachers for classrooms grades 1-6, and para support will be provided in the classroom.
Class sizes average about 12 students, with an average adult to student ratio of 1:4 or 1:5. 
Please fill out the application below. If hired and you are NOT a current USD 383 employee, you will then need to fill out an application through USD 383 Human Resources to become a teacher with our district.
HIRING FOR 2023 IS OPEN!
---